"It's not how much we give but how much love we put into giving."
~Mother Teresa~
Are you still looking for the perfect gift to give to a child? The Children's staff  have put some love and thought in our gift recommendations for you! Please take a look:
Ms. Heather S. is recommending LEGO kits especially any Star Wars set, LEGO Friends or LEGO Disney Princess set. Check out the official LEGO website for specific information on the varying sets.
If your child has enjoyed our play sets in our kitchen area on the Mezzanine, why not add the
 or the
 to your shopping list? The  Learning Resources Smart Snacks Rainbow Color Cones and the Melissa & Doug Slice & Bake Christmas Cookie Play Set can be purchased at most retail stores.
Ms. Heather T. says that her tweens love these Tech toys in her MakerSpace program each month:
 Ozobots are small, smart toy robots. Children learn how to code, play and create in both the physical and digital worlds. Watch a Ozobot – It's Your Move on YouTube that explains it all.
  SnapCircuits  By following the pictures in the manual, children can build exciting projects, such as FM radios, digital voice recorders, AM radios, burglar alarms, doorbells, and much, much more!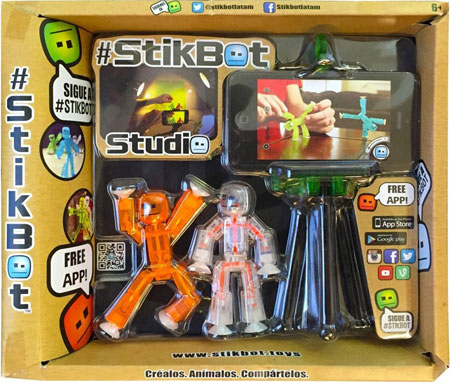 With StikBots, children can create their own stop motion videos.
Ms. Lucy recommends Marble Run sets for hours of creative, fun play and for something that the whole family can do together on Family Nights at home.
Ms. Kristine recommends Magna-Tiles for hours of creative, fun play too. Children in our play area love to make different designs with the magna-tiles that we have in our collection.
Ms. Ann and Ms. Nicole recommend the Think & Learn Code-a-Pillar   from Fisher-Price for preschoolers.  This unique caterpillar encourages children to experiment and play while developing coding, sequencing and critical thinking skills.
Take a look at these websites that Ms. Ann recommends for more great educational toy ideas for gift giving:
The Parents.com website has their recommended 2016 FamilyFun Toys of the Year list.
The Toy Insider is  a website that reviews toys, games, movies, video games, apps, and books for children. They have a Hot 20 Holiday Guide of toy recommendations for infants through the tween years.
Fat Brain Toys is another website that recommends quality toys, games, and gifts that  are not only  fun to play but they are also educational. For more gift giving ideas, check out their Hot Christmas Toys for 2016 .
"A book is a gift you can open again and again"
~Garrison Keillor~
We love books so we always have some book recommendations for you that would make great gifts:
Ms. Lucy recommends  3 favorite classics because these sweet stories guarantee a few  good laughs while reading:
Ms. Kristine recommends the Ling and Ting series by Grace Lin for beginning readers:
She also loves the Flip-a-Word series by Harriet Ziefert and Yukiko Kido for beginning readers  too:                 (These are the the first five books in the series)
For older readers, Ms. Kristine suggests the David Macaulay nonfiction series:
Ms. Heather T. recommends these favorites:
  Trouble Don't Last by Shelley Pearsall
Read this fabulous historical fiction story about the Underground Railroad in Ohio then travel to the Cincinnati area to visit the landmarks and homes that are in the book. It will be a neat experience for all!
Budding scientists and environmentalists will enjoy reading this year's Buckeye Book Award winner for 3rd to 5th grade readers.  It would be a great family read combined with a visit to the Great Lakes Science Center or The Lake Erie Nature & Science Center.
The War that Saved My Life by Kimberly Brubaker Bradley
A truly moving story about recovery, love, and redemption as well as one of last year's Newbery Honor Books.  Fans of historical fiction and horses will be especially taken by this wonderful novel.
Ms. Heather S. suggests that  the Who Is and Who Was biographies would make great gifts for girls. By reading about famous women, young girls today can feel empowered and strife for greatness themselves.
She also recommends for a good bedtime story, Goodnight Yoga: A Pose-by-Pose Bedtime Story by Mariam Gates:
As for me, I am recommending some of my favorite Christmas stories that can be read aloud as part of a family holiday tradition year after year:
 How the Grinch Stole Christmas by Dr. Seuss
Grinch hates Christmas so he steals everything from the town of Who-ville so they will be unhappy. He learns that one does need presents to celebrate the joy of the holiday season.
 The Best Christmas Pageant Ever by Barbara Robinson
Can the wild Herdmans make this year's Christmas pageant the best one ever?
 The Polar Express by Chris Van Allsburg
A young boy takes a magical trip to the North Pole on Christmas  Eve.
 The Night Before Christmas by Clement Clarke Moore
Everyone should enjoy this well-known poem about the arrival of St. Nick.
 Mr. Willowby's Christmas Tree by Robert Barry
A special Christmas tree is delivered to Mr. Willowby's house, but it's way too tall. The top of the tree that he throws away is used by many creatures.
A Charlie Brown Christmas by Charles M. Schulz
Charlie Brown tries to feel better about Christmas by directing the annual Christmas play.  Does anyone know the true meaning of Christmas?
A Christmas Carol by Charles Dickens
(An adaptation of the original classic is good too) Ebenezer Scrooge gets a visit from three spirits won Christmas Eve who show him the meaning of Christmas.
Finally, I will be adding this book to my Christmas collection:
   The Wish Tree by Kyo Maclear
Charles and his trusty sled Boggan go on a quest to find a wish tree. Although this book is not overtly Christmasy, it does portray the spirit of giving and believing. I love it!
 Looking for more book gift ideas? Ms. Heather T. has also posted on Facebook the  link to 20 Children's Christmas Books to Read Aloud.
Happy Reading! Happy Holidays!
Donna